Utility Locates & Mapping Services
Subsurface Utility Engineering 
Buried utility locating and Mapping Projects of any Size
Whether you need to locate a single buried pipe or map out all buried structures for kilometers of roadway or acres of land, Terraprobe combines highly experienced technicians with the best equipment to successfully complete utility location projects of any size.
How We Do It:
Our technicians use a well proven process to develop a project workflow for each job.
A visual survey is done to determine the best approach which includes locating structures such as manholes, valves, lighting poles and electrical boxes etc. Terraprobe will also procure a One Call ticket to acquire drawings from the various utility providers. All available drawings are reviewed prior to beginning work.
Electromagnetic (EM) detection devices are used to locate live and loaded power lines as well as other metallic structures. Ground penetrating radar (GPR) equipment of various types are used to locate non-metallic utilities as well as structures that are not shown on as-built drawings. GPR is also used to verify all EM based locates and to determine depths to the top of targets.
Simple Locate: On many construction projects it may be necessary to locate a specific buried utility. Terraprobe will locate and mark specific utilities. Markings are made using paint, flags or other appropriate materials.
Bore Hole or Trench Clearance: Another common requirement for locating utilities is to clear areas for trenches or bore holes to ensure that buried utilizes are
Roadway & Area Based Locates: Terraprobe also has significant experience with locating projects where as-built information is limited, or it is suspected that utilities are present on site with no as-built information. This is a more time consuming approach as the complete area is scanned using GPR to locate targets.

For larger projects, Terraprobe utilizes the Stream-C radar system – one of the most advance GPR systems in the world.

Finds BOTH metallic and Non-Metallic structures.
Locate targets up to 5 meter depth.
Practical and efficient in confined spaces and open terrain.
American Society of Civil Engineers CVASCE 38-02

CSA Group S250:20 Standard
Subsurface Utility Engineering (SUE) Quality Levels
Terraprobe conducts its utility locating and mapping according to the standards outlined in American Society of Civil Engineers 38-02 and the CSA Group CSA S250:20
QL-A UL Survey using Geophysical methods (GPR & EM) with confirmation using Soft Excavation (Hydro-vac) as necessary. Report in AutoCad showing plan and profile of utilities.
QL-B UL Survey using Geophysical methods (GPR & EM). Report in AutoCad showing utility locations on map.
QL-C UL Survey using Visual Observation of facilities only, eg. Manhole covers, valve chambers etc. Report in AutoCad showing observed utilities on Plan Map.
QL-D BC One Call ticket and GIS information from cities/municipalities only. This includes One Call ticket information as well as other data provided by the utility owners.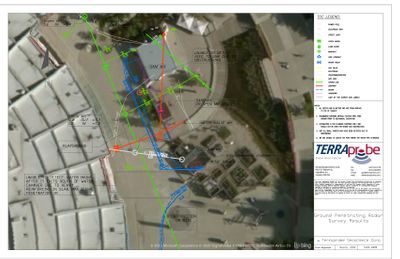 Project Deliverables
One Call Tickets: Terraprobe will acquire a BC One Call Ticket on behalf of the customer if requested. BC One Call and BC Common Ground Alliance (member)

Local Markings: Utilities are marked on the ground using paint or flags employing a standardized colour code. For all locates except large scale projects utilizing the Stream-C.
GPS: RTK corrected GPS* coordinates (2 cm accuracy) can be taken for all locates. This is an additional cost except for Stream-C projects.
Hand Sketch: Hand drawn sketch shows located utilities with relative to fixed structures. This is usually used to confirm bore hole clearance and is a record of locates marked locally. The hand sketch is part of the basic locate service.
Work Order: Terraprobe utilizes a paperless dispatch and work order system. Pictures are taken of the locate markings and are sent as part of the completed work order. Notes are also included. Work orders are provided for all levels of service.
AutoCad Drawings: AutoCad drawings may be provided at an additional cost for all levels of service. Base drawings of the survey area must be provided to Terraprobe to allow completion of this service. Stream-C projects deliverables always include AutoCad drawings.
Google Earth/Aerial Survey Overlay: Available for all GPR located utilities, structures are shown overlayed on a Google Earth map or a map created by our Aerial division - Terra-Aero.
3-D Rendering: A 3-D rendering of located utilities can be produced for all locate projects utilizing the Stream-C radar system.
⟶ Flexible Pricing Options
⟶ Local Marking & Reports Available
⟶ Large Equipment Inventory